We service all of New Hampshire (NH) , Massachusetts (MA) , and Maine (ME) with Decorative Concrete, Stamped Concrete, Epoxy Floor Coatings, and Garage Flooring.  We have a large selection of colors and patterns! Give us a call for your next concrete project. We provide Free Estimates. 
Do Epoxy Garage Floors Hold Up?
Garage floors are a necessary part of any home, but they can also be a headache. From stains to cracks, it seems like anything and everything can happen to them. So, when it comes time to decide on a garage flooring option, what should you choose?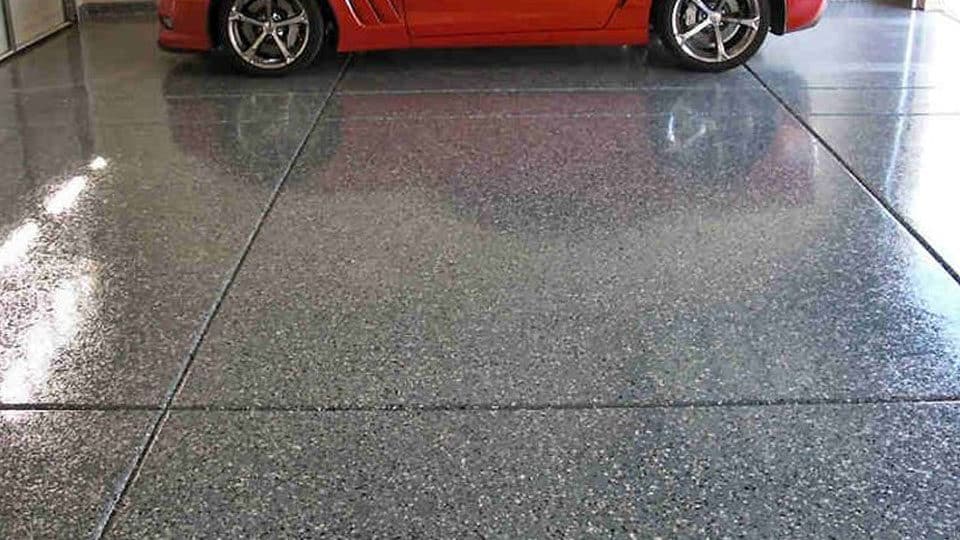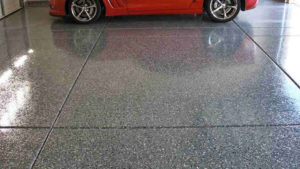 One option is epoxy garage floors. Epoxy is a type of coating that is applied to the surface and then dries to form a hard and durable finish.
What Is Garage Flooring With Epoxy Surface Coating?
Garage flooring with epoxy is a specialized type of flooring that is used in garages. It is a type of concrete that is mixed with epoxy, which makes it more durable and resistant to staining and fading. Epoxy flooring is also less slippery than other types of garage flooring, making it a safer option.
Garage flooring with epoxy is a great way to keep your garage looking good and functioning well. There are many different types of garage flooring with epoxy, so you can find the perfect one for your needs. Epoxy is a durable material that will protect your garage floor from wear and tear. It is also easy to clean and maintain, so you won't have to worry about it getting dirty or stained. If you are looking for a new way to update your garage, consider installing garage flooring with epoxy.
How Long Do Epoxy Floors For Garages Last?
Garage floor coatings are a popular flooring choice because they are durable and easy to clean. How long do epoxy garage floors last, though? This depends on the quality of the epoxy and the type of flooring.
Most epoxy garage floors will last for at least 20 to 30 years if they are properly maintained. This means that you should sweep and mop the floor regularly and wax it every few months. If you don't maintain the floor, it may not last as long.
There are several factors that can affect how long a garage floor epoxy lasts. The type of substrate (or base material) that is used will affect how long the floor lasts. Epoxy is usually applied to concrete, but it can also be applied to other substrates such as wood or metal. The quality of the epoxy will also affect how long it lasts.
What are The Benefits of Epoxy For Garage Floors?
Garage epoxy floors have a variety of benefits that can improve your life. They are durable and long-lasting, making them a great investment for your home. Additionally, they are easy to clean and maintain, which keeps your garage looking its best. Epoxy floors also resist staining and fading, so you can rest assured knowing your floor will look great for years to come.
Garage floors are an important part of a home, and they can be enhanced with epoxy coatings. Epoxy is a strong and durable material that can protect a garage floor from damage. It is also resistant to staining and fading, so it will look great for many years. Additionally, epoxy floor coatings can improve the grip of a garage floor, which can be important when dealing with oils or other liquids.
7 Reasons: Why are Garage Floors With Epoxy So Popular?
1. Epoxy garages are a popular option because they're durable and easy to clean.
2. Garage floors with epoxy are made of resin and a hardener that are mixed together and applied to the floor.
3. The epoxy cures a hard, durable finish that is resistant to chemicals, oil, and gasoline.
4. Garage epoxy floors are easy to clean because they resist staining and dirt accumulation.
5. Epoxy garage coating floors can be tinted any color and can be textured to create a variety of designs.
6. Epoxy for garage floors should be sealed annually with a sealant designed for epoxy floors to protect them from staining and fading.
7. Epoxied garage floors can last 20-30 years with proper maintenance.
What Makes Garage Flooring So Strong?
Garage floor coatings are made to be very tough and durable. There are many reasons why this is the case. The main reason is that these coatings are applied in very thin layers. This allows them to withstand a lot of wear and tear.
In addition, they are resistant to most chemicals and solvents. This means that they will not be damaged by spills or tracked-in dirt and debris. Finally, garage floor coatings are often treated with a sealant that makes them even more durable.
How To Maintain a Garage Floor With Epoxy To Last Forever
Garage floors can be given a durable and decorative finish with an epoxy coating. This type of coating is applied in two coats and will protect the concrete from staining and damage. It is important to follow the manufacturer's instructions for applying the epoxy, as this will ensure that the floor is properly protected. The floor should also be cleaned and free of debris before the coating is applied. A garage floor coated with epoxy can provide a long-lasting finish that will look great and be easy to clean.
Garage floors are susceptible to staining and damage and need to be properly maintained in order to keep them looking their best.
Here are 3 Tips for Maintaining a Garage Floor With Epoxy:
1. Keep the floor clean – This is the most important step in keeping your garage floor looking good. Make sure to sweep or vacuum it regularly to remove any dirt, dust, or debris.
2. Use a sealant – A sealant will help protect your floor from stains and damage. Apply it every 2-4 years, depending on how often you use your garage.
3. Avoid using harsh chemicals – Chemicals like oil, gasoline, and brake fluid can stain or damage your floor. If you must use them, be sure to clean them up immediately afterward.
Our Locations:
Nashua, NH
North Hampton, NH
Concord, NH