We service all of New Hampshire (NH) , Massachusetts (MA) , and Maine (ME) with Decorative Concrete, Stamped Concrete, Epoxy Floor Coatings, and Garage Flooring.  We have a large selection of colors and patterns! Give us a call for your next concrete project. We provide Free Estimates. 
Stamped Concrete Patio With Fire Pit Ideas
Looking for a stunning way to improve your backyard? Our stamped concrete patio with fire pit ideas are the perfect solution! Not only will you enjoy a relaxing space to entertain guests or relax in privacy, but you'll also get the benefits of a custom-built fire pit. Plus, our team of experts can help you choose the perfect design and materials for your needs.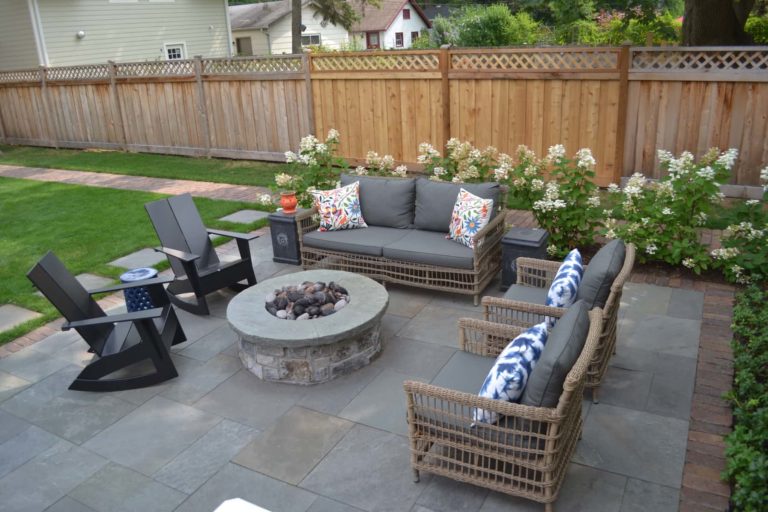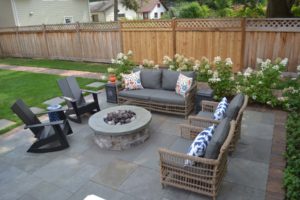 Looking to create an outdoor living area that is both beautiful and functional? A stamped concrete patio with a built-in fire pit is the perfect solution! Not only will you enjoy hours of relaxing outdoors, but you'll also have a warm and inviting space to entertain guests.
The Advantages of Stamped Patios With Fire Pit
1. A stamp patio with a fire pit is the perfect way to enjoy your backyard.
2. It's a great place to gather with friends and family, and the fire pit adds a cozy element to the space.
3. The concrete surface is durable and easy to clean, and it can be customized to match your décor.
4. The fire pit is perfect for roasting marshmallows or just enjoying the warmth of the flames on a cool evening.
5. A stamped patio with a fire pit is the perfect way to enjoy your backyard.
How to Design a Stamped Patio With Fire Pit
When designing a stamped patio with a fire pit, there are a few things to consider. The first is the size of the patio. It's important to leave enough room for chairs and a table, as well as the fire pit. The next thing to consider is the shape of the patio. A square or rectangular patio is typically the easiest to design and build, but you can also go with a more custom shape.
Once you've decided on the size and shape of your patio, it's time to start thinking about the details. What kind of stamping pattern do you want? What color will the concrete be? Will you add any decorative accents, such as bricks or stone? And finally, what type of fire pit will you use?
What to Consider When Building a Stamped Patio With Fire Pit
When planning your backyard oasis, be sure to consider all the possibilities for your new stamp patio with a fire pit. Here are some things to think about:
-What is the purpose of the patio? Will it primarily be used for seating or will it act as a more versatile space for dining and entertaining?
-How large should the patio be? Keep in mind that you'll need enough room to comfortably seat everyone who will be using it, as well as space for a fire pit and any accompanying furniture or accessories.
-What kind of atmosphere do you want to create? A cozy, intimate setting or a more open, airy space?
-What kind of materials will you need and what can you use from your existing backyard landscaping?
How to Build a Stamped Patio With Fire Pit
One of the best features of a concrete patio is its ability to hold heat, making it the perfect place to build a fire pit. In order to do this, you will need bricks or stones to create the fire pit and a metal grate so that the flames can breathe. Here are the steps to follow:
1. Decide on the size and shape of your fire pit. It should be at least 24 inches in diameter so that you can fit chairs around it comfortably.
2. Dig out the center of your patio to a depth of about 18 inches. This will be your fire pit bowl.
3. If using bricks, start by creating a square or circle outline for your fire pit and then start stacking them in place.
The first step is to mark out the area where you want your patio to be. You'll need to measure the dimensions of the area and then use spray paint or flags to mark out the boundaries. Once the area is marked off, use a shovel or post hole digger to create holes for the base of the fire pit. The depth of these holes should be about 18 inches.
When building an outdoor fire pit on a patio, it is important to use a fire-resistant material for the interior of the pit. A layer of gravel or small stones will help to protect the concrete from heat and sparks. The pit should be at least 18 inches deep, and the sides should be steep enough to contain sparks and embers. A metal ring or grate can be placed in the center of the pit to support a fire.
The Benefits of a Fire Pit on Your Stamped Patio
Adding a fire pit to your stamped patio can add both function and beauty. A fire pit can provide a focal point for your outdoor living space, as well as a place to gather with family and friends. The warmth and ambiance of a fire pit can also extend the use of your patio into cooler seasons.
When selecting a fire pit for your decorative concrete, be sure to choose one that is made of non-combustible materials, such as metal or stone. This will help ensure that your patio remains beautiful and safe. Be sure to also consider the size of the pit, as well as the type of fuel it uses. Gas pits are often the easiest to use and maintain, but wood-burning pits provide a more traditional look and smell.
The Best Types of Stone for a Fire Pit Patio:
When it comes to finding the best type of stone for your fire pit patio, there are a few things you need to take into consideration. The first is the climate in which you live. If you live in an area with cold winters, you'll want to use a type of stone that will withstand freezing temperatures. If you live in a warmer climate, any type of stone will work.
The second thing to consider is the size of your fire pit. If your fire pit is large, you'll need a thicker stone to support the weight. If your fire pit is small, a thinner stone can be used.
Finally, consider the look you want for your patio. There are many different types of stones available, so you can find one that will match the style of your home and garden.
Our Locations:
Nashua, NH
North Hampton, NH
Concord, NH