Stamped concrete is a nice way to add colors and patterns to your home, but there are a few things you should know about it before you decide if it's right for you.
What are the Disadvantages of Stamped Concrete?
Stamped concrete known as decorative concrete is an attractive choice for a concrete patio, concrete pool deck, concrete driveway, and concrete walkways around your home, but it does have some drawbacks. Here are the main reasons why stamped concrete has disadvantages:
The Main Disadvantage of Decorative Concrete is:
Being able to hire a contractor that has plenty of experience in this field. The main disadvantage of stamped concrete is that you need to hire a contractor who has plenty of experience. A good contractor will be able to give you a quote on using the proper materials and will be able to give you an idea of how long it will take for them to complete the job once they get started.
Also, an experienced contractor will be able to explain to you the process involved in the installation and materials used, while providing experienced helpers in the process to complete the project according to quality expectations.
An experienced contractor will use:
Steel rebar
5000 psi concrete (rated for 18-wheeler vehicles)
Fiber mesh
Use the right base (crushed stone)
Install expansion joints
Experience (required: minimum 10yrs)
At least 4-inch thickness
Using materials from the top leading manufacturers in the industry
Stamps with professional texture made by the top leaders in the industry
Main Reasons: Why Stamped Concrete Has Disadvantages
Difficult to install
Hard to find contractors experienced in this field
Requires maintenance
Weather permitting for installation
Stamped concrete is difficult to install. It's a highly specialized field, and there aren't many contractors that know how to do it right.
If you're looking for stamped concrete, then you'll want to make sure your contractor is experienced in the craft. If not, they could end up doing more harm than good.
The installation process can take longer than expected because of the weather needed to install the concrete. If you live in an area where it rains all the time, this is a big problem. You can't install stamped concrete patios if it's raining out because water will ruin the surface and leave pockmarks on your concrete.
Pros:
A durable and long-lasting product
A low-maintenance surface that requires minimal upkeep
A wide range of colors, textured patterns, and design options
Cost-effective compared to natural stone or pavers
Versatile and can be used for both indoor and outdoor applications
Environmentally friendly
Can handle heavy loads from heavy commercial vehicles
Decorative concrete is a good choice for patios, walkways, pool decks, and driveways. This type of paving is durable and low maintenance, making it an ideal patio surface for families with young children or pets. Additionally, stamped concrete provides an attractive appearance that complements your home's aesthetic design. Since this material doesn't require much upkeep—you simply sweep it occasionally—it's also more affordable than other types of paving materials, such as brick concrete pavers or stone slabs.
Cons:
Stamped concrete is more expensive than regular traditional concrete
Lack of professional installers
Stamped concrete is vulnerable to staining and discoloration if not sealed properly
Can be slippery when wet unless a non-skid additive is added to the sealer during installation
Requires re-sealing every 3 to 5 years
It's worth noting that stamped concrete is more expensive than other types of regular concrete. Installation costs also tend to be higher because it requires more work and expertise than standard concrete. While this may not be an issue for some, others may want to explore other options before choosing stamped concrete as their main flooring material.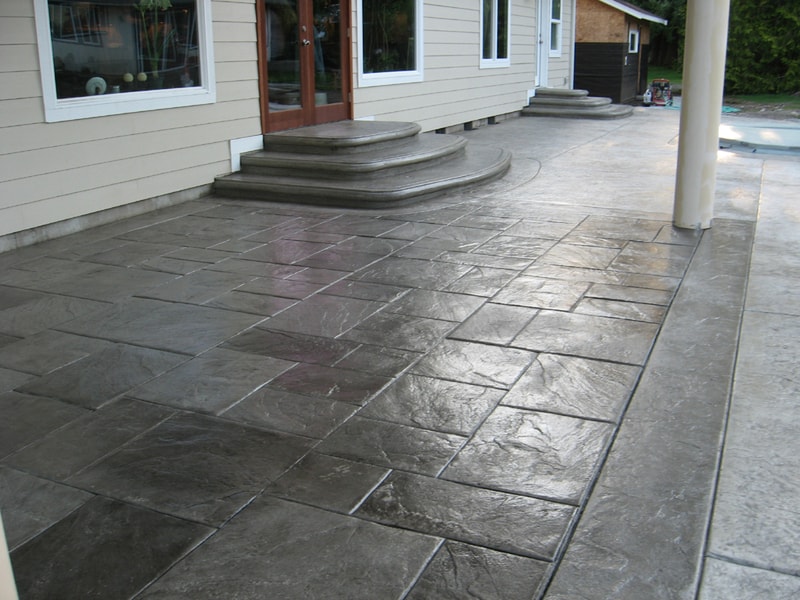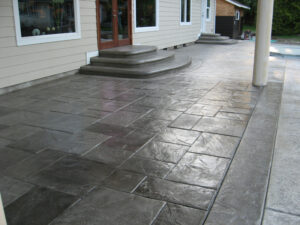 The Complexity of the Application Process
The application process for stamped concrete is more complex than for traditional concrete. It takes more time to do it properly, which means you'll spend more money on labor costs in the beginning. You'll also need to seal the surface regularly and take care of it more often than you would a normal concrete slab.
Concrete is an excellent building material for many reasons: It's durable, easy to work with, and requires little maintenance once it dries. However, if you want something that looks like poured stone but will stand up under heavy traffic or heavy weather conditions (such as rain), then stamped concrete may be right for your project!
It Needs Regular Maintenance
Stamped concrete is a durable, long-lasting material, but it does require regular maintenance. Once the initial sealant has worn off, you'll need to reseal your patio or walkway every 3–5 years to keep it looking good. If you don't take good care of your decorative concrete, stains can become permanent and hard to get rid of.
Stamped Concrete Alternatives:
Natural stone
Brick
Wood
Paver stones
The Disadvantages of Natural Stone, Brick, Wood, and Paver Stones
Natural stone is a great choice for exterior patios and walkways, but it can be expensive. It's also heavy, which means that you'll need to hire professional masons to install it and make sure they build a strong foundation to support its weight. Brick is another popular option for outdoor patios and walkways because of its durability, but it can crack or chip if exposed to harsh weather conditions (such as rain), wood tends to warp over time, and can be dangerous when splinters occur. stamped concrete may be right for your project!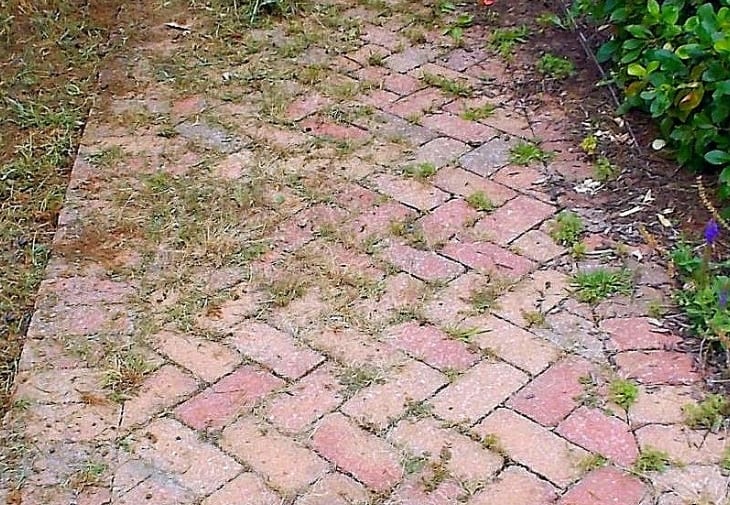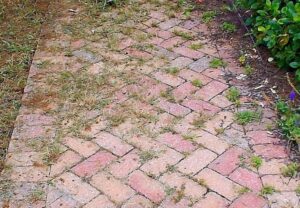 Brick Paver Disadvantages
Brick pavers can be subject to some maintenance issues, including discoloration and chipping. If you use brick pavers outside, they will probably need to be replaced in certain sections every three years. Brick Pavers are also heavy and expensive compared with other materials such as pervious concrete or wood.
Main Disadvantages:
They don't last in cold weather climates
Pavers loosen up over time: grass and weeds come through
Weekly maintenance (weekly picking of weeds and grass)
Water seeps in through the cracks and pavers separate and become un-level
They need constant repairs: replacing chipped and cracked bricks
Not durable: made of clay materials (weak PSI strength)
Lack of designs and color options
Bricks are more susceptible to cracking under heavy vehicle traffic
Stamped Concrete has its Disadvantages that Should be Considered when Designing your Project
Stamped concrete is not for everyone. If you are considering stamped concrete, it's good to know what these disadvantages are so that you can make an educated decision about whether or not this type of material is right for your needs.
If you're thinking about stamped concrete for your project, it's important to know what its pros and cons are. Even though the material has many pros, you should also think about its cons before making a decision.
Our Locations:
Nashua, NH
North Hampton, NH
Concord, NH