Our garage flooring options are durable and long-lasting, and they come in a variety of colors and styles to suit your needs. Whether you're looking for a sleek, modern look or something more traditional, we have the perfect option for you. Garage coatings is more than just a way to protect your concrete. It can be an extension of your home's style and personality. There are many options to choose from, so it's important to consider everything before you make a decision.
How To Choose the Best Garage Flooring Option for You
There are a lot of factors to consider when selecting the right garage flooring option for your home. Some homeowners prefer epoxy because it's durable and has a low initial cost. Others may prefer rubber or vinyl because they are aesthetically pleasing, but they can be more expensive to install.
There are also different types of finishes that can be applied to each type of flooring, so it's important to choose one that will match the décor of your home. Ultimately, the best garage flooring option for you will depend on your individual needs and preferences.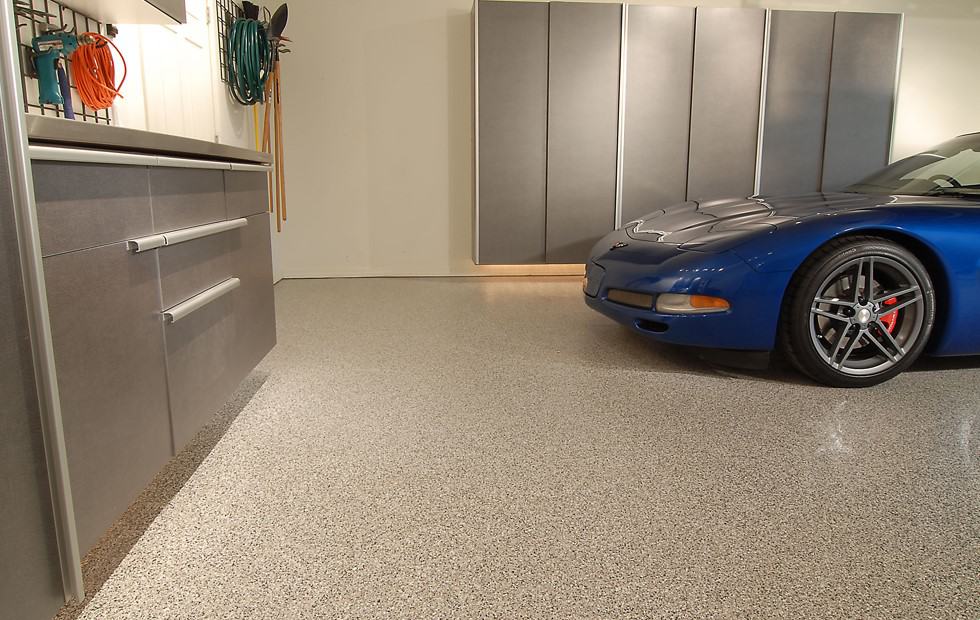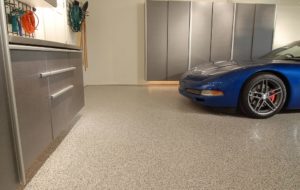 What are The Different Types of Garage Floor Options Available?
A garage with upgraded floors is a popular choice for homeowners. There are many different types to choose from, and each has its own benefits.
Epoxy Coatings- Epoxy coatings are a type of paint that uses epoxy resin as the primary liquid or solid ingredient. The epoxy resin is mixed with a hardener and sometimes other additives to create a coating that can be applied to a variety of surfaces. Epoxy coatings are often used on metal, plastic, concrete, and other materials to protect them from the elements and provide a durable finish.
Rubber Flooring- Rubber flooring is a great option for those looking for a durable, waterproof and slip-resistant surface to protect their garage floor. This type of flooring is made from rubber sheets that are bonded together and compressed into a seamless surface. Rubber floors are popular for garages because they provide excellent traction and stability, as well as providing protection from moisture and spills.
Vinyl Flooring- Vinyl flooring is an affordable and durable flooring option for garages. It is easy to clean and resistant to water damage. Vinyl also has a low noise level, which makes it a good choice for car enthusiasts or people who live in apartments with noisy neighbors.
The most common type of garage surface is epoxy. It's strong, durable, and easy to clean. Epoxy cement surfaces also have a low Maintenance Requirement Index, meaning that it requires little care in order to keep it looking good.
Other popular types of garage surfaces include rubber floors and vinyl floors. Rubber floors are best for areas that get a lot of foot traffic. They're easy to clean and look great with any décor. Vinyl floors are typically more expensive than other types of flooring, but they're considered to be less durable and have a natural look that some people find appealing.
Which Garage Option is Best for You?
Your garage floor options should be based on your needs and preferences. There are many different types of flooring to choose from, so it's important to know what you want before you start shopping.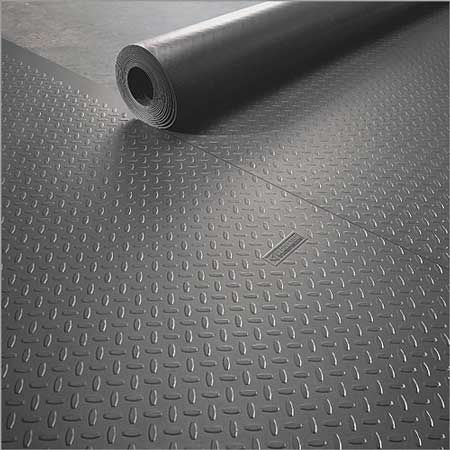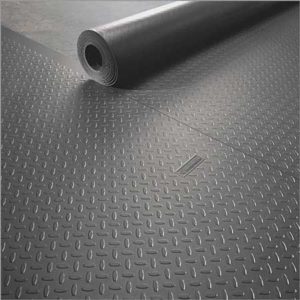 Here are some factors to consider when choosing a flooring option for your garage:
-The type of surface the flooring is made of: Some options are made of asphalt or concrete.
-Cost: Different types of flooring can cost different amounts.
-Ease of upkeep: Will the floor require regular cleaning?
-Flexibility: Will the floor be able to withstand heavy use?
-Appearance: Do you want a flashy or professional look?
Learn about Epoxy and Its Benefits for Garages
Epoxy is a resin that is combined with a hardener to create a tough, durable coating. Epoxy has been used for decades in the construction and manufacturing industries due to its various benefits. Some of these benefits include increased abrasion and chemical resistance, water-proofing, improved durability, and UV protection.
Discover the Endless Possibilities With Decorative Epoxy Coatings For Garages
Epoxy coatings are becoming more and more popular in the world of design. They can be used in a variety of ways and can transform any space with an unexpected look. They're durable and resistant to water, making them perfect for messy kitchens or bathrooms. They come in a variety of colors and textures, so you're certain to find one that fits your style.
There are many different options for epoxy floor coating finishes for garages. It is all about the look and feels you want, and the price will vary depending on what you are willing to spend.
What are The Most Popular Garage Coatings?
Choosing the best garage floor paint is a difficult decision. There are so many different brands and colors to choose from, but one thing that is certain is that these paints offer a durable and long-lasting finish. The most popular garage coatings are epoxy, high gloss enamel, and urethane.
Choosing The Best Finish: For Your Garage Coating Options
Garage floors can be a costly addition to your home. There are many options available, so it's important to choose the one that is right for you. There are basically 3 popular options for a finished surface using epoxy.
Metallic Coatings: One option is metallic flooring. Metallic finishes with epoxy are strong, and durable and look great in a garage. They also have a high resistance to wear, which means they will last longer than other flooring options.
Solid Color Epoxy Coatings: Another option is solid color epoxy garage coatings. This type of flooring is easy to clean and looks natural. It also has good resistance to wear and tear.
Vinyl Flake Chip Coatings: are another popular option for garage floors. These coatings come in many different colors and are easy to apply. They have good resistance to water and oil, making them ideal for a garage that may be used regularly by vehicles.
The Benefits of Epoxy Flooring for Garages
Epoxy flooring for garages has a number of benefits that make it an excellent option for anyone looking to improve the look and functionality of their garage.
1. Epoxy flooring is extremely durable. It can last for many years without any problems.
2. It is easy to clean. You can simply sweep it or hose it off when needed.
3. Epoxy flooring is environmentally friendly. It does not produce any harmful fumes or gases, and it's also non-toxic.
4. It's affordable compared to other types of flooring.
How to Choose a Garage Floor Coating Company
The choice of an epoxy garage floor installers coating company can be overwhelming for those looking to protect their investment. Here are some tips to help you choose the best option for your needs:
1. Do your research. The first step is to do your research and identify what type of flooring you want to have. If you don't know, contact the manufacturer or ask a professional. Once you know what type of flooring you want to have, look for companies that specialize in that type of flooring.
2. Cost is important, but not the only factor. Just because a company is cheaper doesn't mean it's better quality or won't damage your flooring. Look for companies with a good reputation and see if they have any certifications or warranties associated with their work.
3. Ask questions!
In conclusion, there are many different garage surface flooring options to choose from. It is important to consider your needs and budget when making a decision. If you are looking for a durable floor that is easy to maintain, epoxy flooring may be the best option for you. If you are looking for a more affordable option, concrete flooring may be the best choice. No matter what type of flooring you choose, be sure to take care of it properly so that it will last for many years.
Our Locations:
Nashua, NH
North Hampton, NH
Concord, NH