Are you wondering whether Imprinted concrete can be restored? In this article, we explore the process of re-coloring patterned concrete and the best practices for achieving the desired look.
Can Stamped Concrete Be Recolored?
The answer is yes; color correcting stamped concrete can be achieved. While it is not a simple process, it is possible with suitable materials and techniques. The key to successfully recoloring imprinted concrete is to install the correct type of stain and to follow the manufacturer's instructions carefully.
Are you looking to change the color of the concrete? Decorative concrete is a popular choice for patios and driveways because of its durability and attractive appearance. But over time, the stone hue of the concrete can fade and require an updated look. Fortunately, imprinted concrete can be recolored and resealed if done correctly.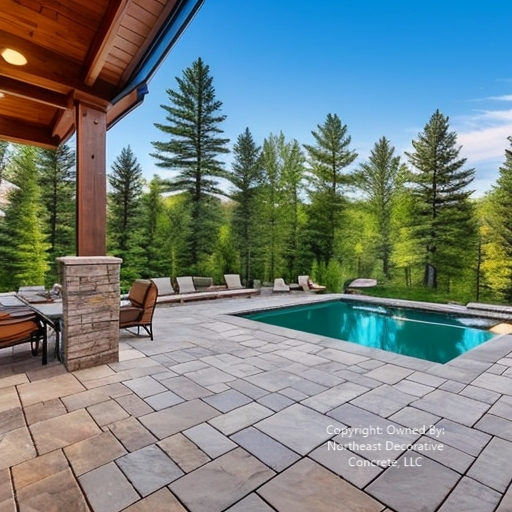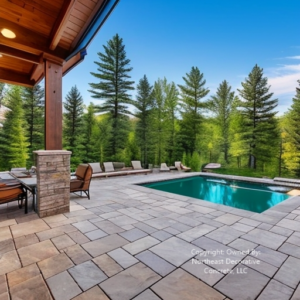 The Different Decorative Concrete Coloring Options
Imprinted concrete is popular for outdoor finishes such as patios, walkways, and driveways. Over time, however, it can start to look faded and unattractive. To give it a new lease of life, you can refinish it with a variety of materials, including:
Solid-Color Stains
Solid-color pigments are designed to provide a long-lasting, opaque shade to the exterior of a structure. They are typically composed of a blend of alkyd resins and pigments and offer excellent protection from the elements. They are available in a variety of shades, and are also often tinted to achieve custom shades. They are best installed to relatively smooth finishes and are great for covering imperfections and hiding unpleasant areas.
Integral Concrete Colors
Integral concrete colors are pigments added to the concrete mixture during mixing. This type of coloration is a permanent, non-fading solution that is designed to preserve the natural look and hue of the concrete. Integral concrete dyes are available in various shades, ranging from earth-toned neutrals to vibrant hues. They can be installed to create multiple effects, including highlighting, and accenting.
Color Hardeners
Concrete hardeners are materials added to the finish of the concrete to strengthen it and increase its durability. They can be in the form of a liquid, or dried powder. These materials help increase the strength and abrasion resistance of concrete finishes. They can also help reduce the porosity of concrete, making it more resistant to water and other liquids.
Water-Based and Solvent-Based Stains
Water-based pigments are popular for concrete because they are easy to apply, dry quickly, and are non-toxic. They are available in various hues and can be installed on interior and exterior finishes. Water-based dyes are also easy to clean up, making them an excellent choice for those who don't want to worry about the mess associated with staining.
Solvent-based pigments are ideal for outdoor concrete finishes since they are highly resistant to weathering and fading. They are also generally easier to add than water-based products and can provide a more prosperous and deeper shade. However, the downside is that solvent-based tints can be toxic if not used and stored correctly.
Colorant Tints
Concrete colorant tints are pigments installed to hue and tint concrete. They are available in various shades and can tint interior and exterior concrete surfaces. To create a unique and vibrant look, the pigments can be mixed with multiple cement-based materials such as concrete, stucco, grout, and mortar. The colorant tints are designed to be mixed into the cement material at the time of mixing. The tints can be mixed with the material until the desired hue is achieved and cured. The colorant tints can also be installed to tint existing concrete finishes and can be installed to create faux finishes and decorative effects.
Colored Sealers
Pigmented concrete sealers can be used to protect and enhance the appearance of concrete. These sealants are available in both water- and solvent-based formulas, with the water-based formulas being the most popular. They can be installed with a brush, roller, or sprayer, typically offering good resistance to UV light, water, and staining. Depending on the sealant that was installed, they may also provide some resistance to chemicals.
Dyes
There are several concrete dyes available on the market, including water-based, solvent-based, and acid-based concrete dyes. Water-based dyes are the most popular option for concrete tinting, as they are easy to install and do not require a unique mixing process. They are also the least expensive option. Solvent-based dyes are more durable and create more vibrant hues, but they are more costly and require a more precise mixing process. Finally, acid-based dyes are the most durable and make the most vibrant shades, but they are also the most expensive and require the most precise mixing process.
Colored Micro Topping Overlays
Tinted micro concrete topping overlays are a great way to upgrade the look of any concrete texture. These overlays can be used to create a decorative and durable finish while providing protection from wear and tear. The micro concrete toppings can be added to driveways, patios, pool decks, and walkways. Installing the micro topping is relatively simple and can be completed in a single day. The concrete topping is installed in thin layers and can be tinted with various pigments to match the existing shade of the concrete. Once added, the concrete topping will provide a protective barrier against wear and tear while adding a decorative element to the concrete finish.
To refinish textured cement, it must be cleaned thoroughly with a wet/dry vacuum, and any contamination, such as paint, grease, oil, or any existing sealant material must be removed. The cost of refinishing custom concrete varies based on the material installed and the location.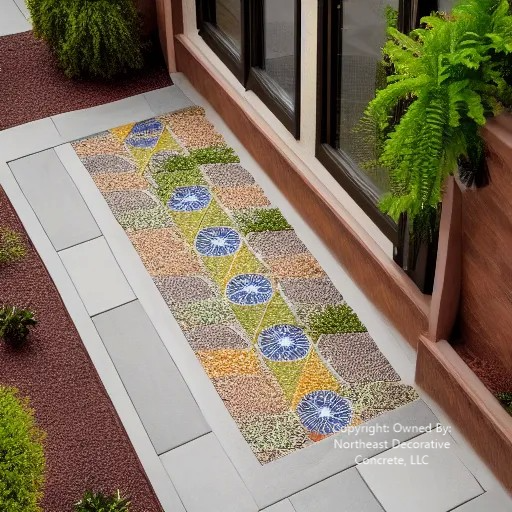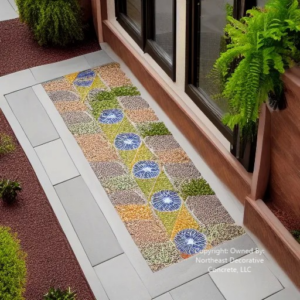 The Cost To Recolor The Concrete And Which Option Is More Cost Effective
Recoloring imprinted concrete is typically around $3.50 per square foot on average. However, the project's total cost may differ depending on certain factors like the project's complexity, local market prices for materials and labor.
If you want to refinish textured concrete, it is essential to note that the cost can vary greatly depending on the state and size of the finish. Therefore, the most cost-effective option may depend on your specific location and texture size. Concrete Décor columnist Chris Sullivan "suggests installing solid color to concrete is an ideal solution for decorative concrete restoration projects". According to Direct Colors, it is possible to change the shade of patterned concrete with pigments or tinted clear coat sealants and "add a bit of color theory". However, keep in mind that the concrete's underlying hue and porosity can affect the final result unpredictably.
Refinishing concrete can be done in two ways: using a solid-color dye or installing an opaque concrete pigment like paint. Solid-color tints penetrate and produce an opaque finish, which can be installed to refresh the hues of integrally pigmented or worn textured concrete. Installing an opaque concrete hue like a paint can completely change the shade of the patterned concrete. The cost of refinishing the patterned concrete varies, but Direct Colors offers a DIY solution that can save homeowners money.
How To Restore Stamped Concrete Color With New Look
Refinishing textured concrete is challenging, but it can be done with suitable materials and techniques. Here are the steps to follow:
1. Choose the correct material of dye. For best results, installing a water-based material that is specifically designed for concrete.
2. Prepare the surface. Make sure the texture finish is clean and free of any dirt or debris.
3. Install the tint using a brush, sprayer, or roller to add the pigments. Again, follow the manufacturer's instructions for the best results.
4. Allow the tint to dry completely before proceeding.
5. Seal the surface after the dye has dried, adding a sealant will help protect the finish of the concrete.
There are plenty of videos on YouTube that show how to add tint to concrete.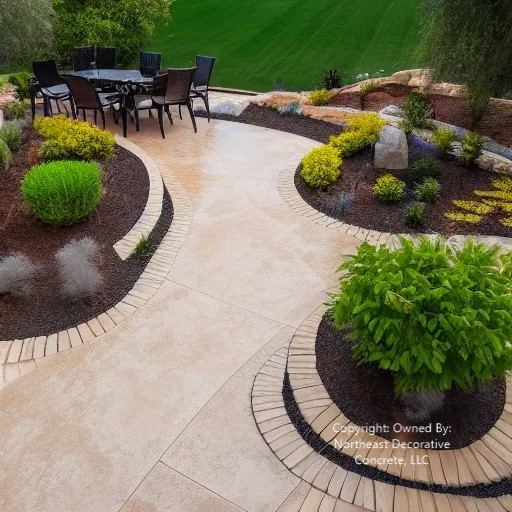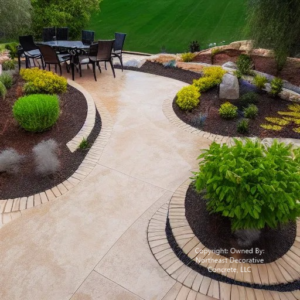 FAQs:
Q: Is It Difficult To Refinish Old Imprinted Concrete?
A: Refinishing patterned concrete is difficult but can be done with suitable materials and techniques.
Q: What Type Of Stain Should I Use To Restore Textured Concrete?
A: For best results, install a water-based material that is specifically designed for concrete.
Q: How Do You Refresh Hues On Patterned Concrete?
A: To refresh the pigment of textured concrete, you will need to install a concrete dye. A concrete dye is a liquid that is applied to the concrete texture and will penetrate and react chemically with the concrete. This will create a shade that is integrated into the finish of the concrete. A concrete dye is a powder mixed added to the concrete. This will create a more vibrant and consistent hue.
Q: How Do You Clean And Recolor Stamped Concrete Around Pool Decks?
A: To clean and re-tint patterned concrete, you must first pressure wash the surface to remove dirt, and debris. After the finish is completely dry, add an acid-cleaning solution to remove any remaining dirt and debris, followed by a neutralizing solution to neutralize the acid. Once the textured finish is completely dry, you can apply a concrete sealant or dye. Be sure to follow all manufacturer instructions for the best results.
Q: Can You Change The Color Of Stained Concrete?
A: Yes, you can change the shade of pigmented concrete, but it will depend on the dye installed. If the concrete is pigmented with an acid-based material, it can be changed by adding a new acid stain shade. If the dye is water-based, a new shade of water-based pigment can be applied.
Q: Can You Stain Over The Look Of Stamped Concrete Driveway?
A: Yes, it is possible to stain textured concrete; however, following the manufacturer's instructions is crucial. It is also essential to ensure the concrete is clean and free of dirt, dust, or debris before tinting. Additionally, it is vital to ensure that the dye is sealed properly so that it does not wash away or fade over time.
Our Locations:
Nashua, NH
North Hampton, NH
Concord, NH