Are you wondering how much it costs to reseal stamped concrete? Read this article to find out the average costs associated with resealing colored concrete, as well as different ways to save money on the project.
How Much Does it Cost To Reseal Stamped Concrete?
Resealing stamped concrete surfaces is a crucial way to protect your investment and keep it looking fresh. The cost to seal can vary depending on whether you learn how to do it yourself or hire a company. If you are doing it yourself, the price is usually around 0.50 cents per square foot for the sealant, materials needed to seal will usually cost between $100 to $300, and tools will be needed to complete the job. However, if you hire a contractor, the cost is usually between $1.20 to $1.75 per sq. ft. and, on average cost to apply, $1 to $2 per sq. ft. The cost of the sealer also varies depending on the type of sealer used. For example, acrylic or polyurethane water-based sealers are less expensive at around $0.25 to $0.50 per sq. ft., while penetrating solvent-based sealers can be more costly at approximately $0.20 to $0.75 per sq. ft. It would be best if you sealed your concrete patio every 3 to 5 years to keep it looking good and protect it from damage.
How Does Concrete Sealing For Stamped Concrete Impact Cost?
1. Size of the area that needs to be finished.
2. Type of sealant used.
3. Complexity of the stamped design.
4. Labor costs associated with the job.
5. Cost of materials and supplies needed for the job.
Decorative concrete is an excellent option for walkways, driveways, epoxy garages, and other outdoor surfaces. The cost of sealing concrete depends on various factors, such as the quality and type of concrete, the size and design of the walkway or driveway, and the cost of materials and labor in the area. In addition, factors like custom hand staining, slip-resistant sealers, and extras like hot tubs or flower beds that need to be removed can add to the total cost. It is recommended to clear coat stamped concrete every three to five years to repel moisture, prevent cracks, and keep colors vibrant. In addition, an annual cleaning is recommended for maintaining the design's fresh look.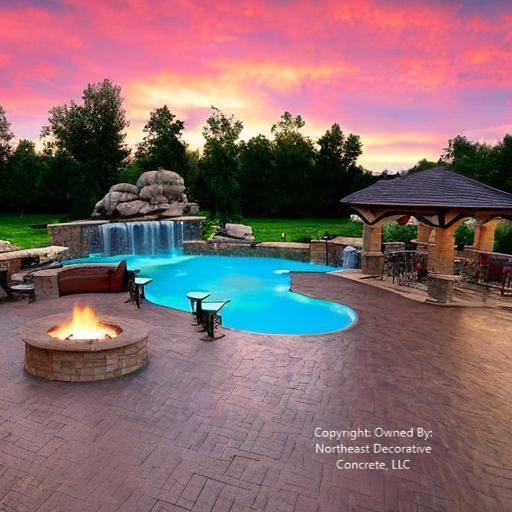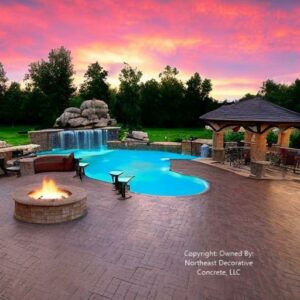 Save Money By Doing Your Own Concrete Sealer Resealing
Sealing concrete slabs yourself is an economical choice for a project. Concrete polyurethane penetrating sealers typically cost between $0.20 and $0.75 per sq. ft., often accessible for DIYers to apply. If you opt to seal the concrete yourself, it could cost you $0.20 to $0.75 just for the solvent-based sealant per sq. ft. You need the necessary equipment and the time to get the topical sealers job done.
Also, Factor In The Costs of Materials That Are Needed To Complete The Job:
1. Rolls of plastic – On average, around $100 dollars.
2. Paint brushes – Roughly $10 per brush.
3. Paint rollers – A pack of rollers is around $25 dollars.
4. Anti-slip resistance additives – $50 per 1 large bottle of the professional container.
5. Release – for tinting sealant – 5-gallon pail of release $100 dollars.
6. Concrete sealer sprayer – Typically around $125 for a commercial-grade metal pump sprayer.
Tools Needed To Complete The Job:
1. Empty 5-gallon plastic pail.
2. Concrete metal sprayer pump style.
3. Paint brushes and rollers.
4. Drill gun and paddle.
5. Paint roller adjustable handle.
How Much Time Is Needed To Seal And Protect Concrete:
Concrete typically takes about 24 hours to seal completely per 1 coat concrete area. However, depending on the type of sealer used and the weather conditions, it could take 1 to 3 days for the sealer to cure with two coats. Also, factor in one whole day before sealing to thoroughly clean the surface with a pressure washer and concrete cleaner.
Applying the polyurethane concrete sealer yourself can be a great way to save money on homeowner labor costs, as long as you have the time and the right tools for applying the sealer. Of course, the product's price will vary depending on the type of concrete sealer you use, but it is usually more affordable than hiring someone else to do it.
Pros and Cons Of Doing It Yourself Or Hiring a Professional
When deciding whether to hire someone or do a project yourself, several factors must be considered. Doing it yourself can be cost-effective if done correctly and a fun and fulfilling experience, especially if you enjoy working with your hands. However, some tasks require specialized skills and knowledge that only professionals possess. For example, laying new concrete stamped finishes requires great precision and attention to detail to achieve an attractive result.
Hiring a pro may cost more initially, but it can save time and money in the long run. Professionals have access to the right tools, equipment, and expertise to get the job done right the first time, and they have access to higher-quality materials than DIYers. Hiring a pro also ensures that the work is done safely and is up to code.
Another factor to consider is the complexity of the project. Some projects are simple enough for DIYers, while others require specialized skills and knowledge. For instance, repairing or revamping average concrete floors, concrete countertops, or garage floors may be too difficult for a DIYer. On the other hand, installing a walkway or patio using decorative concrete may be more cost-effective if done by a sealing decorative patterned concrete professional.
In conclusion, hiring someone and doing it yourself have advantages and disadvantages. Your skill level, budget, timeline, cost per square foot, and project complexity depend on your skill level. If you have experience with similar projects and feel confident in your abilities, then DIY may be a good option. However, hiring a professional may be better if you need more experience or expertise in a particular area or want high-quality results without any hassle or risk of injury.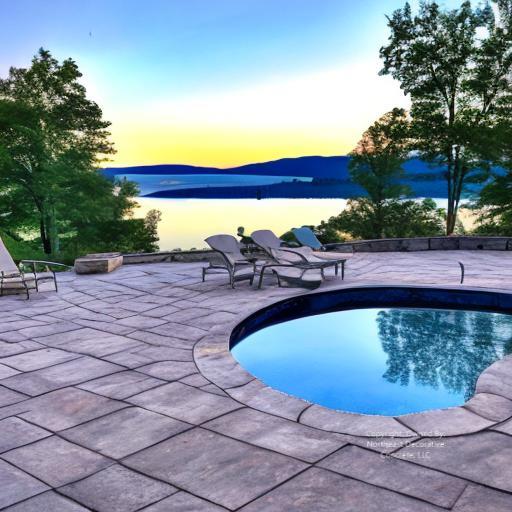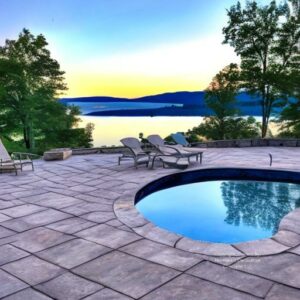 Benefits of Hiring a Decorative Concrete Professional To Seal Concrete
Clear coating colored concrete is essential to keep it durable and to look good. Hiring a pro to seal stamped finishes offers several advantages.
Firstly, professionals provide excellent sealant services that are worth the cost. They have the right experience and will do a high-quality job, ensuring a strong and resilient surface. Professionals understand the work and will always do their best to complete it within the set timeframe without sacrificing quality.
Secondly, professionals will make the floor look beautiful and neat by sealing it everywhere, ensuring no gaps or cracks. Finally, they will apply a suitable sealer that matches the existing surface, making it more attractive.
Thirdly, clear coating concrete helps repel moisture, prevents color fading, staining, and cracks, and has a longer lifespan with minimal maintenance. Concrete is a long-lasting material but can be damaged if exposed to much moisture. Sealing aggregate concrete can help repel water and prevent the growth of molds. It also enhances the color of stamped and exposed aggregate concrete, making it look bright and vibrant while preserving its color. Top clear coating also prevents cracks from appearing on the surface of stamped finishes.
Lastly, hiring an experienced concrete contractor to seal can save time and money in the long run. Seal your concrete every three to five years is cheaper than rebuilding it due to damage caused by weather conditions. In addition, stamping requires little maintenance; apart from general cleaning with warm soapy water occasionally, nothing else is needed other than keeping an eye out for moss growth on the surface (which can be removed by sweeping or pressure washing).
Why Does Stamped Concrete Driveways Need To be Resealed?
Patterned concrete must be sealed because it is porous and can absorb dirt, debris, and liquids. However, if properly sealed,  colored concrete can avoid becoming stained or discolored. Sealing your patterned concrete every 3 to 5 years will help keep it looking its best.
Ways to Save Money Per Square Foot on Resealing Stamped Concrete
There are several ways to save money in 2023 on clear coating. Here are a few tips:
• Do it yourself: seal a concrete driveway If you have the time and skills, you can save square footage money by doing the job yourself.
• Buy the sealant in bulk: Buying sealant in bulk can help you save money on the cost of the materials.
• Shop around: Get quotes from several contractors for the best concrete sealing cost.
• Negotiate: Don't be afraid to negotiate with contractors to get the best price.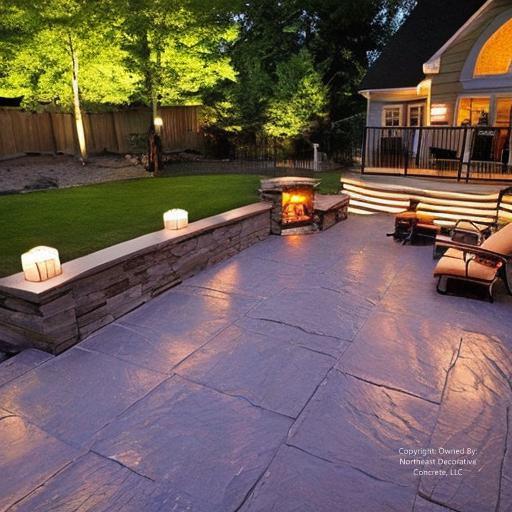 FAQs:
Q: How Often Should I Reseal My Stamped Concrete?
A: The re coating frequency depends on the foot traffic the area receives, the climate, and the type of sealer you choose. Generally, it is recommended to seal every 3 to 5 years to keep the concrete looking good.
Q: What Type of Sealant Should I Use For Stamped Concrete?
A: The best type of sealant for stamped finishes is a solvent-based penetrating sealer for exterior jobs and a water-based acrylic sealer for interior jobs.
Q: What Happens If You Don't Reseal Stamped Concrete?
A: If a colored acrylic concrete walkway is not properly sealed, it can become discolored, stained, or cracked due to exposure to the elements and wear and tear. Additionally, it can lose its protective sealant, leading to further damage, such as water seeping into the surface of concrete and causing mold and mildew growth.
Q: How Long Does Stamped Concrete Sealer Last?
A: Stamping sealers typically lasts 3-5 years, depending on the type of sealer used over the old sealant and the concrete conditions.
Our Locations:
Nashua, NH
North Hampton, NH
Concord, NH